Exhibit starts New Dialogue on Asia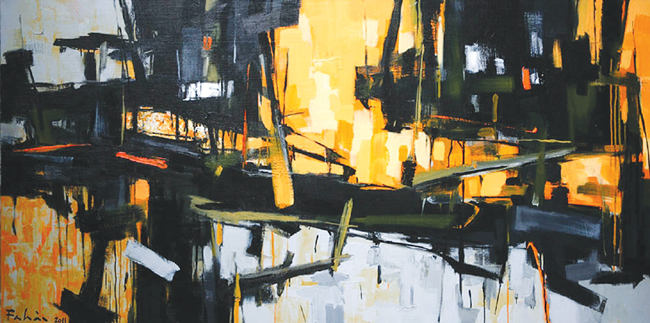 Seasonal shades: Pham An Hai's painting Mua Thu Vang (Yellow Autumn) won the second prize at Art-Competition.net, an international online fine art juried competition. — Photo coutersy of Pham An Hai
HA NOI (VNS) — Pham An Hai is among the Southeast Asian artists who are being honoured at an ongoing exhibition, held in Singapore to mark Sotheby's 30th anniversary.
The exhibition, entitled A New Dialogue, is presenting more than 50 works by 20 artists from seven countries such as Singapore, the Philippines, Malaysia and Viet Nam. It is the first comprehensive exhibition to spotlight important artistic achievements of Southeast Asia.
"I am lucky to be selected as the only Vietnamese representative at this exhibition," artist Hai said.
"The selection by Sotheby is not by chance. They have been following my career for dozens of years," he said.
There are works by other Vietnamese artists in Sotheby's abstract art collection, such as of Pham Hau, Nguyen Trung and Ta Ty. Ty was the first abstract painter of Viet Nam.
Together, these works provide an insight into the lives of leading artists, who have transformed the region's creative voice. Highlighting the increasing prominence and importance of abstract art, A New Dialogue chronicles the development of this genre in the region.
In celebration of Sotheby's 30th anniversary in Singapore, A New Dialogue premiered in Singapore in October.
It will run at Sotheby's Hong Kong Gallery from November 12 to 21.
Recently, Hai's painting, entitled Mua Thu Vang (Yellow Autumn), won the second prize at Art-Competition.net, an international online fine art juried competition.
Hai painted Yellow Autumn in 2011 to express his feelings about autumn in his native city of Ha Noi.
The 100cm-by-200cm acrylic-on-canvas painting's colours are bright, surreal and yet familiar, bringing to mind images of golden leaves in fall, or the light of the setting sun decorating the city streets.
Though the work is abstract, these associations with colour and their arrangement on canvas allow the viewer to easily imagine the cityscape.
Born in 1967, Hai is associated with the first generation of Vietnamese artists who separated themselves from the social realist movement.
He obtained a master's degree in painting in 2005 from the Viet Nam Academy of Fine Arts.
Early in his career, his style was largely inspired by expressionist and surrealist ideals.
His paintings became increasingly personal and autobiographical as a result of an unfortunate road accident in 1997, which left him blind in one eye.
The partial loss of vision frustrated him greatly, but also gave him the opportunity to reconnect with himself. During his recovery, Hai went through a period of self-reflection, while relying on his intuition to help guide his brush. — VNS