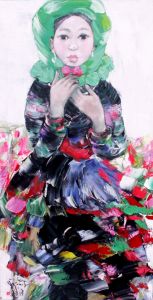 Born in 1977 in Nam Dinh province, Vietnam
Graduated from Hanoi Fine Art University in 2001.
Member of Vietnamese young painters club.
Many private collection in Japan , Hong Kong , USA , France , Germany , Singapore ...
EXHIBITIONS :
The Club of Young Vietnamese Artists 2001-2002-2003-2004 1996-2001
Group exhibitions of student in the Fine Art University 1998
Group Exhibition in Nguyen Khac Can Street, Hanoi 2000 
Vietnam Fine Art Exhibition 2001
NOKIA - Asian Pacific  Exhibition 2003 
UNESCO Exhibition in Hanoi          
Beppu Asia Biennale of Contemporary Art Exhibition 2005
Group exhibition of Capital Young Artists, Hanoi         
Group exhibition in Hanoi
PRIZES :
NOKIA - Asia Pacific Art Award in 2001
Prize of Student Exhibition in 2001 of Vietnam Fine Art Association.